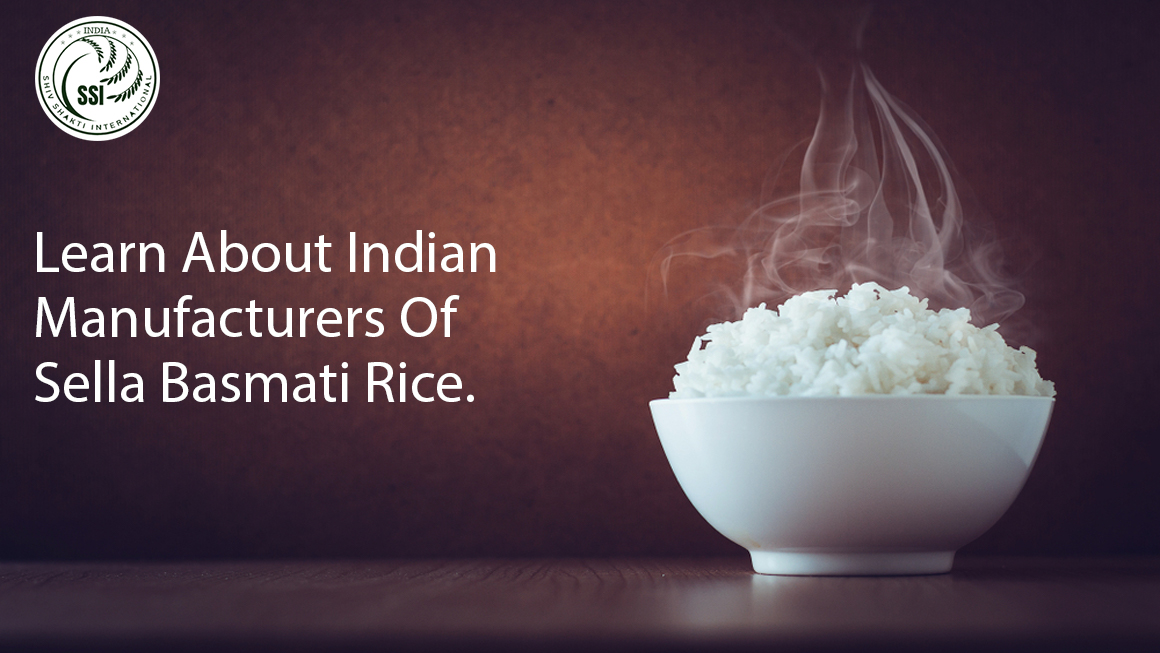 Sella Basmati Rice Manufacturers in India is a kind of parboiled basmati rice. During the parboiling process, the rice becomes a gorgeous golden. This basmati rice is partially or sometimes parboiled, yet, it retains its crust and is further ground.
Sella Basmati stands out due to its unique fragrance compared to other long-grained parboiled rice. Unprocessed rice, or "paddy," still has its husk on. It is made by soaking it in water for a long time, then passing paddy steam through it at a specified pressure. When rice is milled, it also becomes dry. The milling procedure is necessary to remove the germ, husk, and bran. After being milled, the long golden or yellow grains become visible.
This Rice Has A Higher Nutrient Content Than Other Rice Types

Sella Basmati rice is made by parboiling regular white rice. After going through this process, rice gains a lot of beneficial nutrients. One of the main components in this rice is thiamine, sometimes known as vitamin B1. It is something that may find in almost any kind of grain or bran. By going through the parboiling process, basmati rice retains more of its nutritional value. It is a far better option than plain white rice.
What Effect Does Sella Basmati Basmati Rice Have On Your Body?

The health benefits of this rice are many. Among them are:
• Suppose you're trying to slim down, including this rice in your diet. Having rice on your plate will keep you from reaching for another snack so soon after.
• Rice has a very high concentration of dietary fiber than other grains. Eating rice may help you have a regular bowel movement and alleviate constipation. Also, it reduces both calorie consumption and fat absorption.
How Can They Get Their Hands On Some Of This Rice?

You may get this rice from reputable exporters in India who are still engaged in the rice farming sector. These retailers and wholesalers serve customers all across the globe. When shopping for rice, check that it is in high-quality materials that will keep out moisture.

Find out as much as possible about the supplier and exporter you are contemplating working with. Make sure they stock up at the best price available. Parboiled rice is excellent since it is firm and less prone to break than other rice varieties. It's great for large-scale meal preparation.
Shiv Shakti International is distinctive from other rice varieties due to the particular milling procedure that goes into producing it. The paddy must be steamed and dried again before it can. After that, the rice thoroughly keeps all the essential nutrients intact. It helps the grains take on a slight, long-form, soft golden or yellow tint.
Due to its exceptional flavor absorption, this rice is in many traditional Persian recipes, such as pulao and biryani. You may achieve an attractive presentation with the use of Sella Basmati rice. The meal's taste, fragrance, and presentation are all improved by the grains' lengthening after cooking. And the post-cooking separation of the rice grains is spotless.
lengthening after cooking. And the post-cooking separation of the rice grains is spotless.
They actively develop or cultivate rice grains of the best quality, which are in high demand all over the globe. As one of the largest exporters of Sella Rice, they ensure that their products are in sufficient quantities and have moisture-proof packaging. For large-scale cooking, parboiled rice is ideal since it retains its shape and doesn't break easily.